What is a Deployment?
The deployment specify the version of an application that is currently deployed to an environment.
A deployment is composed of:
a Deployed Version / build number that can be linked to an existing Jira Version

a set of deployed Jira Issues

a set of Deployment Attributes (ex: Release Notes, Artifact url,…)
---
Why should you track your application deployments?
Start with reading this article if you are not familiar with what Deployment Tracking is: Track Application Deployments
---
Manage Deployments
To work with deployments, start by opening the Environment Details of an environment for which you have the "Manage Deployments" permission.
Create a new Deployment
First deployment to an environment
To create the first deployment to an environment, click on "Add deployment" top button:

The new deployment dialog will open:
The content and the behavior of the deployment dialogs may be vary depending on the deployment settings done at application level.
Create new deployment from current deployment
You can add a new deployment on top of an existing one by clicking the "plus" button on top right of current deployment: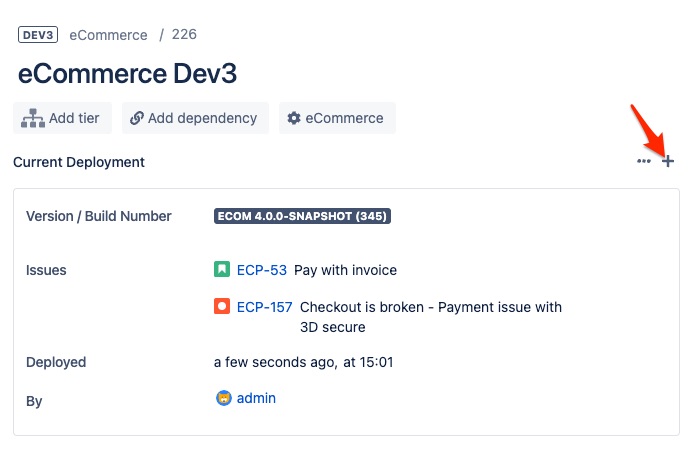 Edit the current deployment
Click on fields to update to change information of current deployment: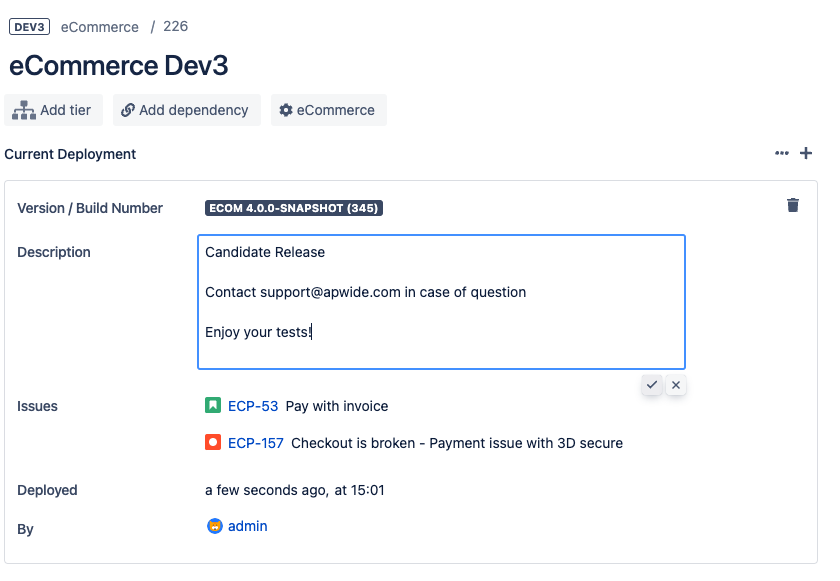 Delete current deployment
If you have permission to manage deployments, you can delete the current deployment from here: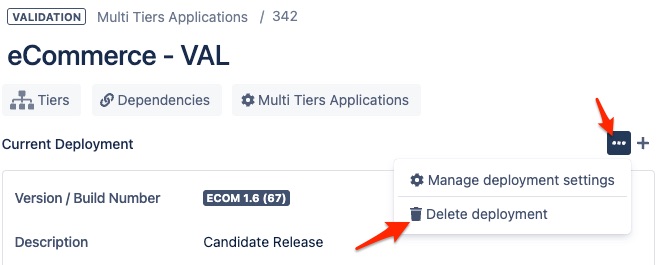 View past deployments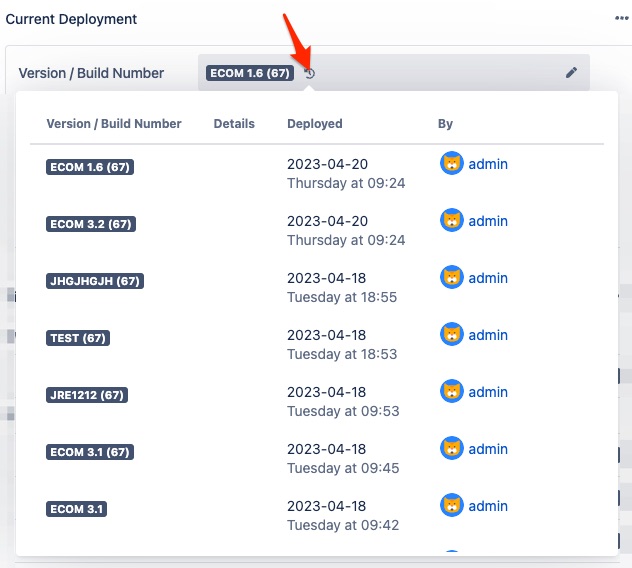 Edit / Delete past deployments
If you have permission to manage deployments, you can delete the past deployments from here: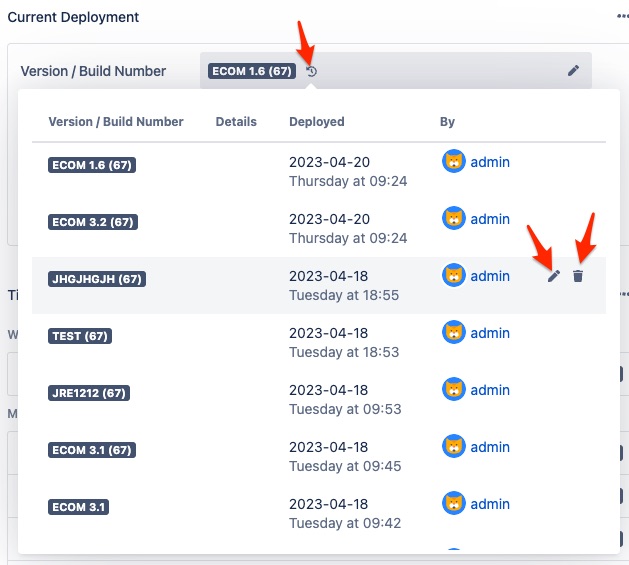 Use the REST API
When possible, it is much better to automate deployment tracking by adapting your existing deployment scripts/pipelines (instead of using the UI):
Change deployment settings from Environment Details
If you have permissions to manage applications, you can access the application deployment settings directly from here:
---
Deployment Logs Environment Panel
You can browse/manager the full history of your past deployments, including the deployed issues, from the deployment logs environment panel: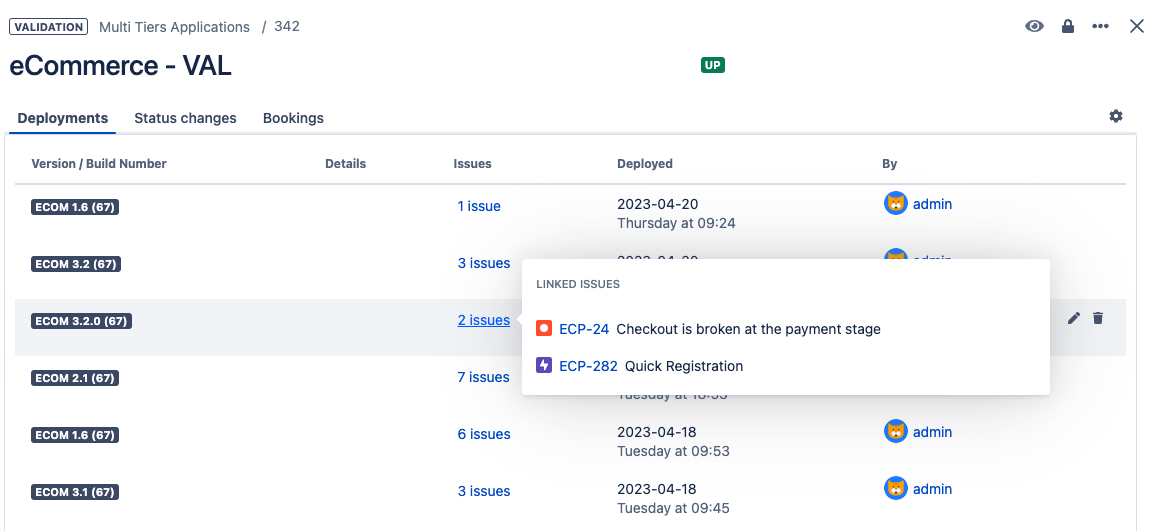 ---
Last Deployments Timeline View
You can use the Last Deployments view to browse last deployments on a timeline: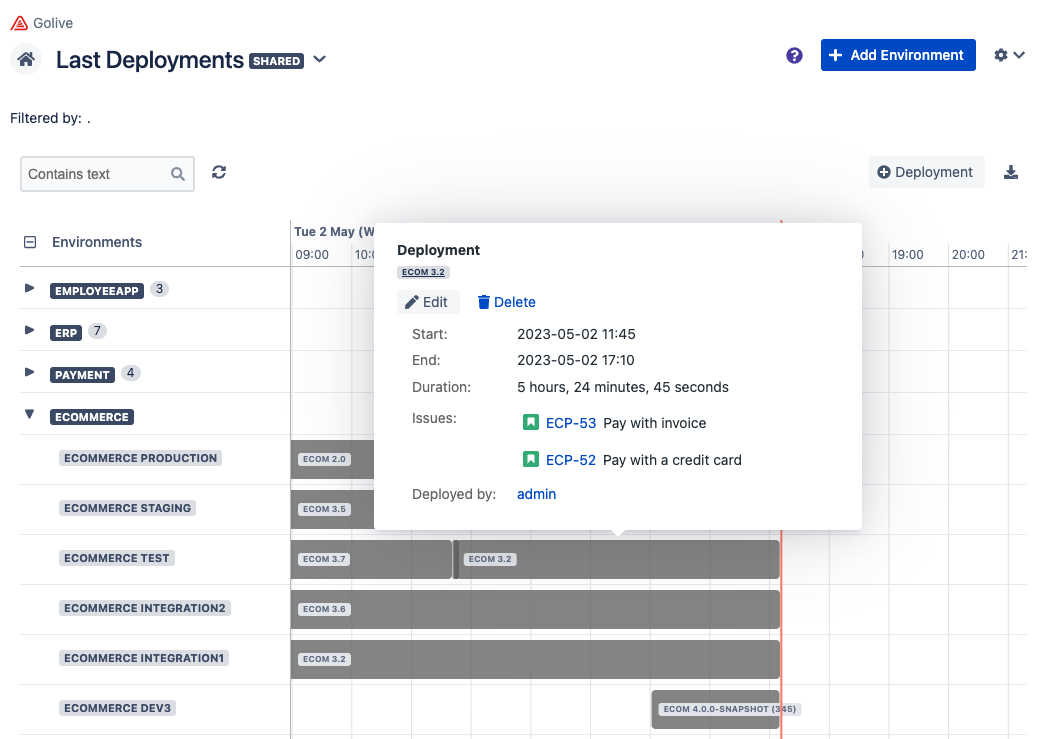 ---
Environment Details Page
You can view and browse performed deployments on a timeline at the bottom of the Environment Details Page or the Browse Environments View: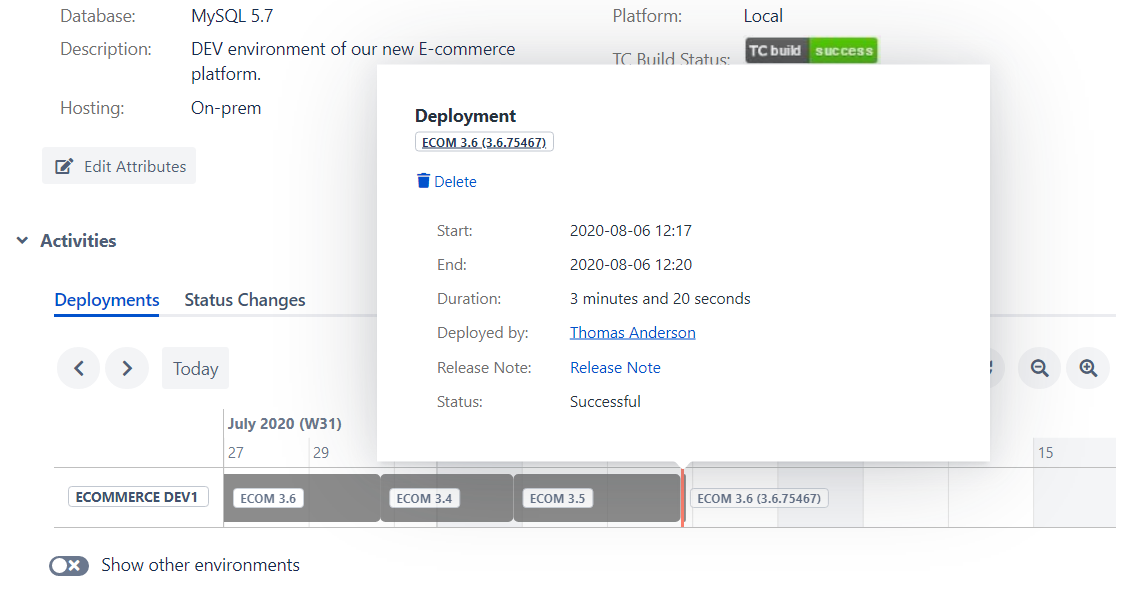 ---
Golive Cloud is now natively integrated with the Jira Software Cloud Deployment API:
https://developer.atlassian.com/cloud/jira/software/rest/api-group-deployments/#api-group-deployments
Enable the "Deployments" feature in project settings
This allows Golive to act as a deployment provider for all Jira projects having enabled the "Deployment" feature: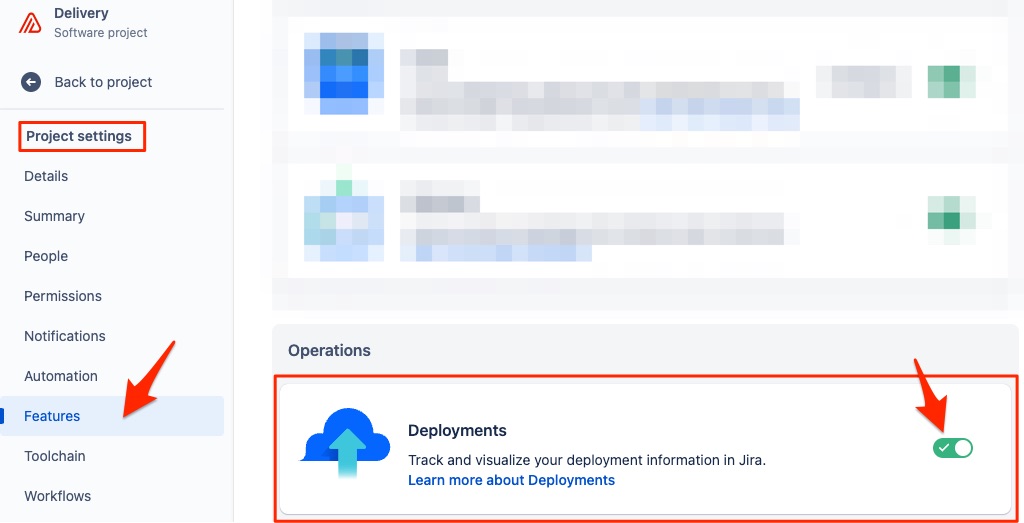 View Golive deployments in Jira Deployments
Golive deployments are now visible in Jira deployments of deployed issues of this project:

Golive deployments are also visible in the Jira Project Deployments Timeline:

Map Jira Environment Types with Golive Categories
Open the "Environment Categories" page in Golive and set the right "Type" for each category: