Release 9.15
Released on August 24th, 2023 | Golive Marketplace Listing | Version History
---
New Features
Introducing Rich Text Editor & Markdown Support Everywhere!
Say goodbye to the days of crafting verbose HTML just to showcase your rich text content. Now, you can lean on our rich text editor to effortlessly compose descriptions for your environments, deployments, planned events, and attribute values. Our Markdown syntax generator works seamlessly, making the process a breeze. Alternatively, you have the freedom to directly employ Markdown syntax, an incredibly convenient option for styling content within your deployment pipelines and through the REST API.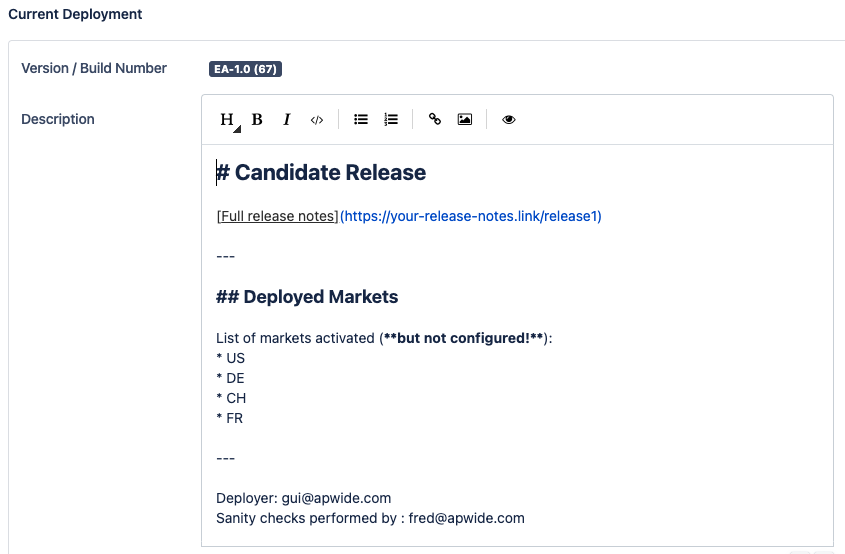 Exciting Arrival: Golive Java (H)API 1.0!
Embarking on the journey of scripting custom automations that interact with Golive has never been smoother. Discover the simplicity of utilizing our new "Fluent" API by exploring its application here: Java API
In pursuit of enhancing your experience, we've seamlessly transitioned all our Groovy script examples in our documentation to leverage this API. This transition ensures that your custom scripts remain robust and dependable when upgrading to the latest Golive versions.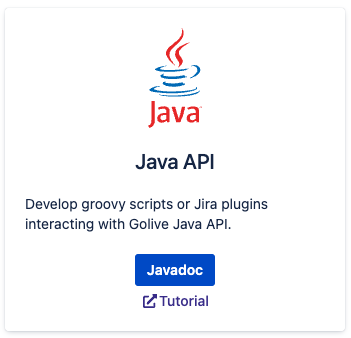 ---
Fixed Bugs
In our latest release, we've tackled and resolved several bugs to enhance your experience. Here's what's been fixed:
Matrix Tags Padding: Improved spacing for environment tags in the matrix view, ensuring a more organized display.

Persistent Quick Filter: Eliminated the issue of lingering quick filters even after deletion.

Duplicate Environment in Custom Field: Rectified the display of environments appearing multiple times in custom fields.

Disappearing Dependencies/Tiers: Addressed the vanishing dependencies/tiers in environment details post-custom field updates.

Auto Linking and Encoding Consistency: Aligned auto linking and encoding behavior across different editable fields.

Predictable View Re-ordering: Corrected the random behavior of view re-ordering.

Last Dependency Removal: Resolved the issue of being unable to remove the last dependency from the UI.

Dependency Management: Aligned dependency actions with user edit permissions.

Hidden Swimlane Recovery: Enabled the re-addition of hidden swimlanes when not grouped by a parent swimlane.
We appreciate your feedback and are committed to providing a smoother, issue-free experience. Thank you for your continued support.
---